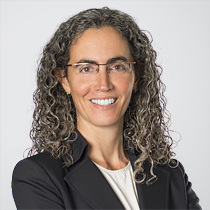 Zehava Zevit, Of Counsel
zehava@franklawrence.com
323.287.5772
Zehava Zevit is a business and litigation attorney who has been involved in all aspects of Indian law for over a decade. Prior to joining the Law Office of Frank Lawrence as Of Counsel, Zehava served as a Senior Counsel in the Indian Law Practice Group at Holland & Knight LLP for twelve years. Before entering private practice Zehava completed a Doctorate at Harvard Law School, where her work focused on theories of constitutional interpretation. Prior to that, Zehava served as a law clerk to Justice Bach of the Supreme Court of Israel.
Over the past decade Zehava has worked with tribes from numerous states including Alabama, California, Florida, Nevada, New Mexico, New York, Oklahoma, Washington, and Wisconsin. Dr. Zevit has lectured and written on a wide variety of topics in Indian law including the benefits of conducting business on Indian reservations, the Tribal General Welfare Exclusion Act, taxation, gaming regulation, and federal-tribal relations. She has also written several articles on state taxation of Indian tribes and worked with tribes to develop unique operating protocols that enable them to take full advantage of the tax-related benefits extended to them by virtue of their sovereignty.
In addition to her work with Indian tribes, Zehava is well-versed in California state campaign finance and conflict of interest law. She has provided counsel in this field to national corporations, major trade associations, Indian tribes, individuals and public officials.
Education
Harvard Law School, S.J.D.
Tel Aviv University Law School, LLB
Publications
Tribal General Welfare Exclusion Act: New Law Supersedes IRS Guidance, Holland & Knight Alert, October 6, 2014

Top 10 Indian Tribal Tax Developments in 2013 and Priorities for 2014, Holland & Knight Alert, January 8, 2014

In Ledyard, 2nd Circuit Says Local Governments May Tax Non-Indian Personal Property Located on Indian Reservations, Holland & Knight Alert, July 24, 2013

Top 10 Indian Tribal Tax Developments in 2012 and Priorities for 2013, Holland & Knight Alert, January 8, 2013

Federal Judge Issues Comprehensive Tax Ruling Preempting Local Property Taxes on Casino Slot Machines, Holland & Knight Alert, April 2, 2012

Barona Band of Mission Indians v. Yee - Ninth Circuit Court of Appeals, Holland & Knight Alert, June 20, 2008

Foundations of Constitutional Legitimacy: Legal-Political Culture, Constitutional Aptness, and Baseline Community, Studies in Law, Politics and Society, 2003

Speaking Engagements
New Markets, Your Products: How to Capitalize on Opportunities in Latin America, Israel Export Institute, Israel Ministry of the Economy, March 11, 2015

Are We Giving Away the Farm? What Tribes Need to Know when Negotiating (or re-Negotiating) their Tribal-State Compacts and Supporting Online Gaming, National Indian Gaming Association Tradeshow, May 12, 2014

Doing Business in the United States: Legal Considerations, Louisiana Economic Development Seminar, June 25, 2012

How to Conduct Business with the U.S. Government Efficiently and Effectively, U.S.-Israel Chamber of Commerce Seminar, May 9, 2012

Between Sovereignty and Reality: The Ins and Outs of Doing Business on Tribal Reservations, Coushatta Round Table Lectures, April 27, 2012

The Power of Constitutions, Government Seminar, May 2010

Tribal Sovereignty: Limiting Non-Tribal Jurisdiction over Casino Patron Disputes, G2E, November 18, 2009

Sustainable Economic Success: The Art of Structuring Tribal Business, Coushatta Round Table Lectures, May 19, 2009

Bar AdmissionsCourt Admissions
United States Court of Appeals for the Ninth Circuit

United States District Court for the Northern District of California

United States District Court for the Southern District of California

United States District Court for the Eastern District of California

United States District Court for the Central District of California

All State Courts in California

---